I say "Cadillac" what do you think?
You SHOULD think Beany's!!!
Did you know we have a bona fide Cadillac expert on staff here at Beany's?  John has been with us for 8 years.  Before he joined u
s he worked for a Cadillac dealership's service department for over 25 years.  If you know about cars, you know that Cadillacs are a little different than other cars.  Their engines are just different enough that "regular" mechanics are sometimes intimidated… but not Cadillac John!!!
One 'quirk' of Cadillacs is the way a mechanic changes the headlights and other front lights.  Seems like it'd be no biggie, but this is no Buick or Honda!!  In order to get to the front lights, the entire bumper must come OFF.  This is no job for your driveway…. It's a two person job (making sure the bumper doesn't hit the ground, and lifting it levelly) for part of it, and it takes time.  It still takes John time – and a partner –to do it, but he's done many over the years, so knows what it's all about.
One of their best selling vehicles, the Escalade, is consistently on the 'best of' lists for >$45K models year after year.  It's also one of John's favorite models.  In addition to those, we see DTS, SRX, CTS and Devilles, but even the oldies like Broughams and Fleetwoods.
If you've never driven or ridden in a Cadillac, I hope you get the chance to.  The older ones are HUGE, and epitomize American luxury.  They have smaller cars now in addition to the very VERY large 'Sclades.  As a kid, my grandfather had an El Dorado.  My sister and I and all our friends from the neighborhood could fit on that big back bench seat!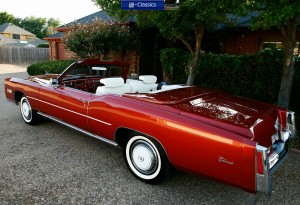 One thing about owning a Cadillac is that maintenance is expensive.  Almost ALL Cadillacs take eight quarts of oil, and the newer ones -like most luxury cars- take synthetic or synthetic blend oil. That adds up pretty quickly.  Of course, getting that maintenance done at Beany's, with our Cadillac expert, is much less expensive than going to the dealer for maintenance.
Being a Cadillac owner isn't for everyone.  Like with any brand, they have a loyal base – people who'd never own anything BUT Cadillacs.  Some people are just now coming to Cadillac after years of owning other makes.  We want you to know that if YOU have a Cadillac, we're perfectly able and willing to help see both you and your Caddy through many years of happy and safe motoring.