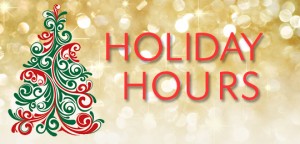 MERRY CHRISTMAS and HAPPY NEW YEAR!!!
Holiday Hours for Christmas 2017 and NYear 2018
Friday, December 22:  8a – 4p
Saturday, December 23:  CLOSED
Monday, December 25:  CLOSED
Open regular hours December 26-30 (8a-6p)
Monday, January 1, 2018:  CLOSED
EMERGENCIES:  If your car has broken down, you can still have your car towed to our lot where it will wait for our return.  If you need a tow to our shop, call your AAA emergency number, or, if you don't have AAA, feel free to call MARATHON TOWING at 614.837.8535 for a tow to our shop.